22mm  digital Voltmeter Ammeter frequency indicator light
22mm 25mm digital Voltmeter Ammeter  indicator light
Voltmeter Ammeter indicator light is  a new design electric control device showing voltage and current data.has advantage of slim shape,easy installation,easy replace,long lasting,good looking. it can be fix to 22mm hole  and 25mm. Voltmeter Ammeter indicator light is a patent reserved products by Ezitown.
Feature:
Size:Φ22 / 25mm
Shape:panel round hole installation, short body compact
Using Features:increase the circuit board three anti-technology, moisture, dust, anti-corrosion.
Advantages:mass production of the patch process, cost-effective, low power consumption, wide range of applications;
set anti-touch terminal security cover IP20;
comply with RoHS environmental directives;
access to CE certification; accept OEM, ODM customized services.
Function :
Mini  Voltmeter Ammeter indicator light, signal lights
only two lines of measurement and power supply, three digital display AC and DC voltage, wide measurement voltage AC65 ~ 480V (red light), DC9 ~ 36V (green light);
increase the exchange (red light) and DC (green light) ammeter, four-wire operation;
increase the symbol display indicator V / dc, V / ac, A / dc, A / ac;

A / dc is out of stock.

ammeter can be used as a load disconnection instructions with more ingenious;
current/voltage meter
Model
SMV-A
SMV-D
SMA-D
SMA-A
Type of input
DC voltage
AC voltage
DC current
AC current
Measurement / power supply range
DC9~36V
AC65~480V 50/60Hz
0~36A
0~50A
Valid values
External shunt
External transformer
Digital Display
00.0~36.0
000~480
00.0~36.0
00.0~50.0
Vdc
Vac
Adc
Aac
Indicates the color
green
red
green
red
measurement accuracy
±0.1V
±1%
±0.1A
±5%
Terminals
2×M3.5Screw
4×M3.5Screw
The sampling period
0.5s
Display method
3-digit 7-segment digital tube
Power consumption
Maximum 10mA
frequency/ voltage current meter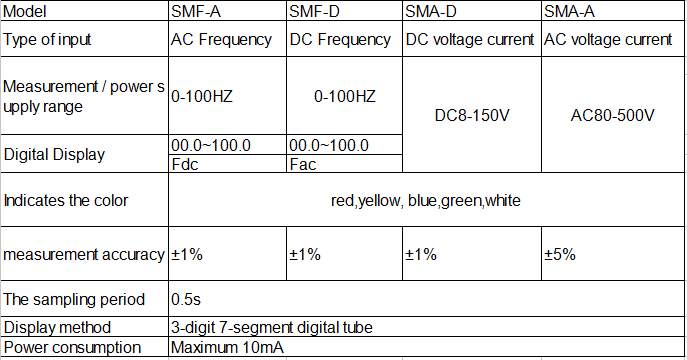 Voltmeter Ammeter indicator light