MEI IP 65 Inner out double door metal enclosure control box
Item : MEI
MODEL NO.:          MEI
IP DEGREE:           IP65
CATEGORY:          CONTROL BOX
MCB POLE:            NO LIMITED
MAIN SWITCH:    NO LIMITED
CERT:                     CE IEC60529 NEMA4,12
MATERIAL:          CS
FINISHING           TEXTURED COATING
RAL7032/RAL2004
DOOR OPEN DEG  Outer door120°
inner door 90°
.
1.Designed to enclosure electrical or electric equipment and protect against harsh,industrial envirenments.
2.For use as instrument enclosure,electric, hydraulic or pneumatic control housings,electrical junction boxes or terminal wiring enclosures.
3.Impressive styling features make the enclosure a suitable addition to any high-tech equipment installation.
4.For high temperature applications,a gasket retainer may be required,please refer to factory.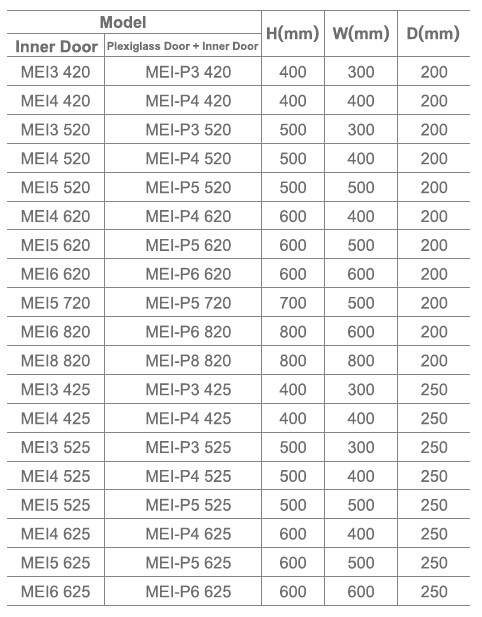 the mounting panel can be orange color or galvanized steel,for MEI IP 65 Inner out double door metal enclosure control box
Above Height 600 (include 600mm ) is 2 lock for out door .