rcd RESIDUAL CURRENT CIRCUIT BREAKER
Item : C100LE
Details :
4P IP20 100a rcd RESIDUAL CURRENT CIRCUIT BREAKER WITH OVER CURRENT PROTECTION
EARTH LEAKAGE CIRCUIT BREAKER
Type: EARTH LEAKAGE CIRCUIT BREAKER
Poles Number: 1P
rcd RESIDUAL CURRENT CIRCUIT BREAKER
C100LE RCBO is suitable for the circuit of 50Hz,rate voltage 230/400V,and rated current up to 100A.It has the earth leakage,overload & short circuit protect function.It can also add over voltage protect function.It is mainly used in buiding illumination and electrical distribution system.
C65 LE RCBO is used for the protection againstelectrical leakage in
the circuit of 50Hz or 60Hz,rated voltage single-phase 230V,3 phase
400V,rated current up to 60A.When somebody gets an electric shock or
the residual current of the circuit exceeds the fixed value,the ELCB
can cut off the power within the time of 0.1S automatically to protect
the personal safety and preventing the equipment from the resulted by
the residual current.With this funtion,the ELCB can protect the circuit
against overload and short circuit or can be used for the unfrequent
switchover of the circuit under normal conditions.It conforms to
IEC61009 standard.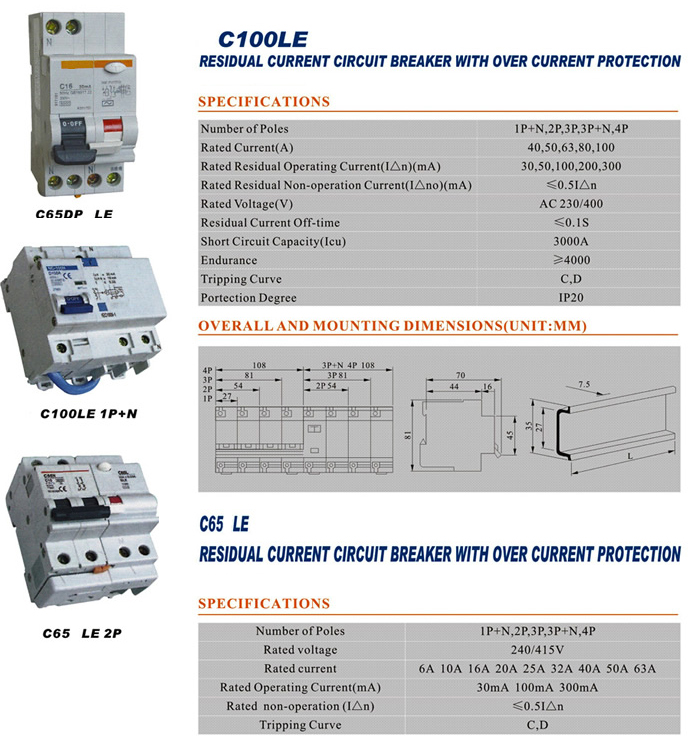 Q:How to guarantee my order and payment:
A:Ezitown has Alibaba trade Assurance,100% refundable if any quality or delivery problem.
Q:How to return the goods if meet any problem
A:we have DHL and Fedex account for return goods.buyer no need to pay any shipping cost for returning. Can contact our salesman to operate.
Q:Why Ezitown price is competitive, and quality seems rather good ?
A:because we have been manufacturing more than 20 years, we know what price and Quality buyer can sell well in market.the wholeseller have suitable profits
Q:Can we order many items and make combine shipment.
A:we can combine many items,and deliver by courier/sea/land/air etc. pack well.
Q:Can I order the cabinet/enclosure/box and the wiring material from you or other supplier,you make wiring and assembly for us ?
A:we have egineering, wiring and assembly team for low voltage/medium voltage/high voltage/DC control .can make drawing and diagram to confirmation and proceed the assembly.we have unite nation project in regular assembly.
Q:How can I make our own brand for my order
A:we supply OEM service if order quantity meet the OEM MOQ , contact to know the exactly quantity for your item
Q:What is the delivery if I make payment
A:Almost all items we keep in stock.and we have many order every day , We need 1-3 working days to packing and make delivery.OEM packing will be longer time.
Q:Can we visit your factory or office ?
A:we always welcome customer visit us, let me know the schedule, we will arrange.