32A circuit breaker with overload protection
32A circuit breaker
Item : MDZLE-32
Details :
Residual Current Breaker With Overload Protection(RCBO)
MDZLE-32 Rated current(A): 6, 16, 20, 25, 32A RCBO AC and A types, B-C characteristic circuit breaker with overload protection
Brand Name: Meilan
Model Number: MDZLE-32
Type: Residual Current Breaker With Overload Protection(RCBO)
Poles Number: 1P
32A circuit breaker
MDZLE-32 RCBO, function as combination of circuit breaker and residual current device, which protect human from the fault of electric because of over-current, short circuit, earth fault current. MDZLE-32 is self-protecting up to a maximum short-circuit current 32A. All breaking capacities comply with Standard IEC/EN 61009.
Techincal Data
1. Residual current device with overcurrent protection
2. Combine in residual current device function and MCB over-current protection function
3. Short circuit capacity: 4.5KA
4. Rated current(A): 6, 16, 20, 25, 32A
5. Rated leakage operating current(mA): 30, 100, 300mA
6. AC and A types, B-C characteristic
7. Modular Din Rail products 35mm.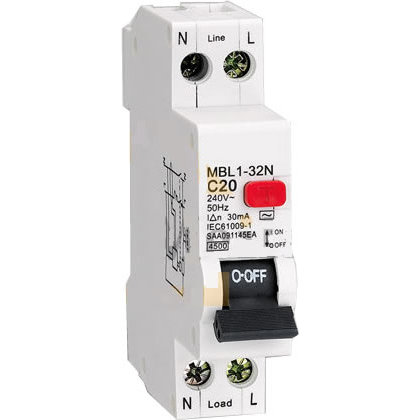 Q:Why Ezitown price is competitive, and quality seems rather good ?
A:because we have been manufacturing more than 20 years, we know what price and Quality buyer can sell well in market.the wholeseller have suitable profits
Q:Can we order many items and make combine shipment.
A:we can combine many items,and deliver by courier/sea/land/air etc. pack well.
Q:Can I order the cabinet/enclosure/box and the wiring material from you or other supplier,you make wiring and assembly for us ?
A:we have egineering, wiring and assembly team for low voltage/medium voltage/high voltage/DC control .can make drawing and diagram to confirmation and proceed the assembly.we have unite nation project in regular assembly.