About this item
| | |
| --- | --- |
| Brand | EZITOWN |
| Switch type | Rocker Switch, Dimmer Switch |
| Circuit type | 3-way |
| Mounting type | Wall Mount |
| Colour | White |
| Wattage | 600 watts |
| Number of Items | 5 |
LED Dimmer Switch: Simple and elegant horizontal slider dims and brightens with ease for full range light control. Conveniently control your lights, and save energy. Ideal for your home and office use
Adjuster Dial: Ensures compatibility for almost all dimmable LED, CFL, and incandescent or halogen bulbs, up to 150 watts of dimmable LED/CFL lamps or 600 watts of incandescent bulbs
Smart Switch: ON/OFF rocker switch remembers the last dimmed light setting and turns on to that exact light level
Easy Installation: Suitable for single pole or 3-way applications. Matches BESTTEN white wallplates (sold seperately)
3 year limited warranty. UL/cUL certified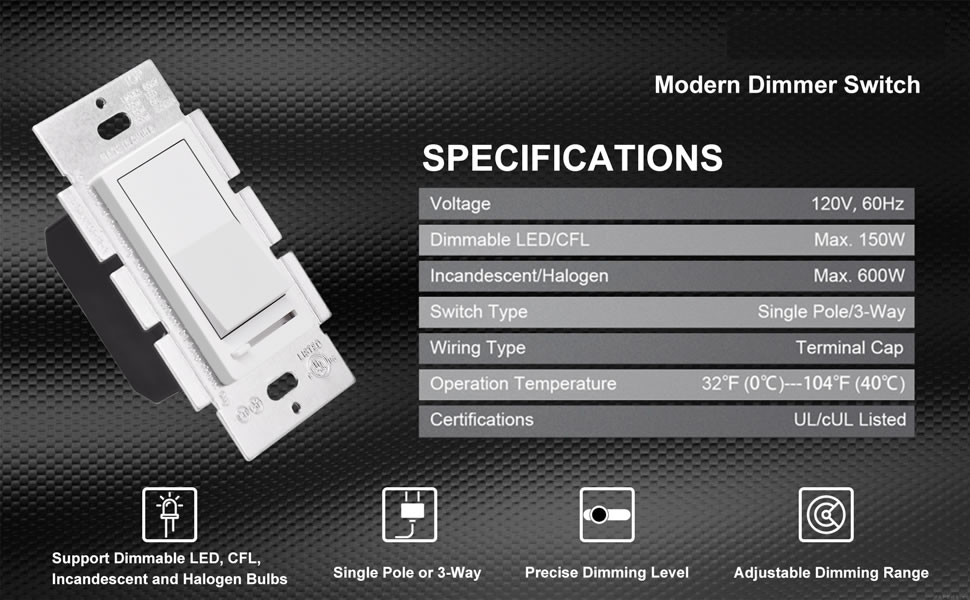 EZITOWN dimmer switch provides smooth, sliding and full-range dimming performance for dimmable LED, CFL, halogen and incandescent bulbs. The slider can dim and brighten your lights precisely and conveniently, creating a romantic mood or a casual atmosphere for family activities.
Single pole or 3-way
No neutral required
Large ON/OFF rocker paddle switch
Precise full-range dimming control
Wide range of compatibility with sensitivity dial
Troubleshooting
Symptom:
– Bulbs turn off while being dimmed.
– Bulbs turn on at high light level but do not turn on at a low light level, or take too long to turn on at low end.
– Bulbs flicker or flash when dimmed do a low light level.
– Bulbs or dimmers are buzzing.
Solution:
1. Verify all bulbs are marked dimmable.
2. Remove wallplate and locate sensitivity dial.
3. Turn up (counter-clockwise) sensitivity dial slowly until symptom is no longer present.